Weld Neck Lap Joint Flanges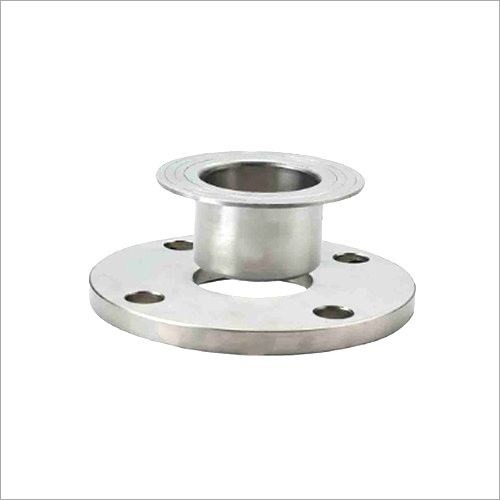 Weld Neck Lap Joint Flanges
Price And Quantity
Product Specifications
CNC Machine finishing and accuracy of drilling have been achieved by VMC/DRO. Crack free installation.

Water, Air, Gas, Oil, Steam
Weld Neck Lap Joint Flanges

Steel
Product Description
We are a renowned supplier of Weld Neck Lap Joint Flanges. They are known for their crack-free installation and have high-quality anti-rust coating provided. The provided joint flanges can be fitted with a lap joint stub end which is considered one of the standard norms of the design of these flanges. The Weld Neck Lap Joint Flanges are used for controlling pressure levels and for trouble-free installation or dismantling of the pipeline system.
Designed as per ASME standards.
CNC Machine finishing and accuracy of drilling have been achieved by VMC/DRO
High quality antirust coating is provided.
Crack free installation.
Customized material and size will be provided upon request
IBR Certified will also be provided upon request.
Application:
WATER | AIR | STEAM | GAS | OIL
Specifications :
| | | | | | | | | | |
| --- | --- | --- | --- | --- | --- | --- | --- | --- | --- |
| N.Bore | A | B | F | N | O | P | R | T | Holes |
| 15 | 89 | 11.1 | 30 | 16 | 23 | 60.3 | 3 | 15.9 | 4 |
| 20 | 98 | 12.7 | 38 | 16 | 28 | 69.8 | 3 | 15.9 | 4 |
| 25 | 108 | 14.3 | 49 | 17 | 35 | 79.4 | 3 | 15.9 | 4 |
| 32 | 117 | 15.9 | 59 | 21 | 43.5 | 88.9 | 5 | 15.9 | 4 |
| 40 | 127 | 17.5 | 65 | 22 | 50 | 98.4 | 6.5 | 15.9 | 4 |
| 50 | 152 | 19 | 78 | 25 | 62.5 | 120.6 | 8 | 19 | 4 |
| 65 | 178 | 22.2 | 90 | 29 | 75.5 | 139.7 | 8 | 19 | 4 |
| 80 | 190 | 23.8 | 108 | 30 | 91.5 | 152.4 | 9.5 | 19 | 4 |
| 90 | 216 | 23.8 | 122 | 32 | 104 | 177.8 | 9.5 | 19 | 8 |
| 100 | 229 | 23.8 | 135 | 33 | 117 | 190.5 | 11 | 19 | 8 |
| 125 | 254 | 23.8 | 164 | 37 | 145 | 215.9 | 11 | 22.2 | 8 |
| 150 | 279 | 25.4 | 192 | 40 | 171 | 241.3 | 12.5 | 22.2 | 8 |
| 200 | 343 | 28 | 246 | 44 | 222 | 288.4 | 12.5 | 22.2 | 8 |
| 250 | 406 | 30.2 | 305 | 49 | 227 | 362.0 | 12.5 | 25.4 | 12 |
| 300 | 483 | 34.8 | 365 | 56 | 328 | 431.8 | 12.5 | 25.4 | 12 |
| | | | | | | | | | |
| N. Bore | A | B | F | N | O | P | R | T | Holes |
| 15 | 95 | 14.3 | 38 | 22 | 23 | 66.7 | 3 | 15.9 | 4 |
| 20 | 117 | 15.9 | 48 | 25 | 28 | 82.6 | 3 | 19 | 4 |
| 25 | 124 | 17.5 | 54 | 27 | 35 | 88.9 | 3 | 19 | 4 |
| 32 | 133 | 19 | 64 | 27 | 43.5 | 98.4 | 5 | 19 | 4 |
| 40 | 156 | 20.6 | 70 | 30 | 50 | 114.3 | 6.5 | 22.2 | 4 |
| 50 | 165 | 22.2 | 84 | 33 | 62.5 | 127.0 | 8 | 19 | 8 |
| 65 | 190 | 25.4 | 100 | 38 | 75.5 | 149.2 | 8 | 22.2 | 8 |
| 80 | 210 | 28.6 | 117 | 43 | 91.5 | 168.3 | 9.5 | 22.2 | 8 |
| 90 | 229 | 30.2 | 133 | 44 | 104 | 184.2 | 9.5 | 22.2 | 8 |
| 100 | 254 | 31.8 | 146 | 48 | 117 | 200.2 | 11 | 22.2 | 8 |
| 125 | 279 | 34.9 | 178 | 51 | 145 | 235.0 | 11 | 22.2 | 8 |
| 150 | 318 | 36.8 | 206 | 52 | 171 | 269.9 | 12.5 | 22.2 | 12 |
| 200 | 381 | 41.3 | 260 | 62 | 222 | 330.2 | 12.5 | 25.4 | 12 |
| 250 | 444 | 47.6 | 321 | 95 | 277 | 387.4 | 12.5 | 28.6 | 16 |
| 300 | 521 | 50.8 | 375 | 102 | 328 | 450.8 | 12.5 | 31.8 | 16 |
Contact Us
FF9, Vardhini Complex, Near Hanuman Cross Road, Makarpura GIDC,, Vadodara, Gujarat, 390010, India
Phone :+918045815461