SS Weld Neck Flanges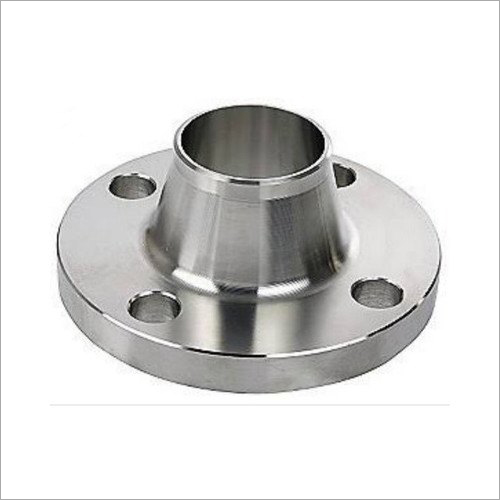 SS Weld Neck Flanges
Price And Quantity
Product Specifications
CNC Machine finishing and accuracy of drilling have been achieved by VMC/DRO. Crack free installation.

Water, Air, Steam, Gas, Oil
Product Description
Backed by a team of diligent professionals and good knowledge in this industry, we have managed to gain a considerable position in the market. We supply excellent quality SS Weld Neck Flanges in different sizes and technical specifications to our widely scattered clients at an economical price range. These flanges are extensively used in automobiles and various other metalworking industries for variegated purposes. They have duly checked on well-defined quality parameters prior to dispatch to make sure that our clients are fully satisfied with our products. Moreover, SS Weld Neck Flanges can be availed from us in bulk at discounted rates.
Designed as per ASME standards.
CNC Machine finishing and accuracy of drilling have been achieved by VMC/DRO
High quality antirust coating is provided.
Crack free installation.
Customized material and size will be provided upon request
IBR Certified will also be provided upon request.
Application:
WATER | AIR | STEAM | GAS | OIL
Specifications :
| | | | | | | | | | | |
| --- | --- | --- | --- | --- | --- | --- | --- | --- | --- | --- |
| N.Bore | A | B | C | D | F | J | L | P | T | Holes |
| 15 | 89 | 11.1 | 1.6 | 35 | 30 | 21.3 | 48 | 60.3 | 15.9 | 4 |
| 20 | 98 | 12.7 | 1.6 | 43 | 38 | 26.7 | 52 | 69.8 | 15.9 | 4 |
| 25 | 108 | 14.3 | 1.6 | 51 | 49 | 33.4 | 56 | 79.4 | 15.9 | 4 |
| 32 | 117 | 15.9 | 1.6 | 64 | 59 | 42.2 | 57 | 88.9 | 15.9 | 4 |
| 40 | 127 | 17.5 | 1.6 | 73 | 65 | 48.3 | 62 | 98.4 | 15.9 | 4 |
| 50 | 152 | 19 | 1.6 | 92 | 78 | 60.3 | 64 | 120.6 | 19 | 4 |
| 65 | 178 | 22.2 | 1.6 | 105 | 90 | 73 | 70 | 139.7 | 19 | 4 |
| 80 | 190 | 23.8 | 1.6 | 127 | 108 | 88.9 | 70 | 152.4 | 19 | 4 |
| 90 | 216 | 23.8 | 1.6 | 140 | 122 | 101.6 | 71 | 177.8 | 19 | 8 |
| 100 | 229 | 23.8 | 1.6 | 157 | 135 | 114.3 | 76 | 190.5 | 19 | 8 |
| 125 | 254 | 23.8 | 1.6 | 186 | 164 | 141.3 | 89 | 215.9 | 22.2 | 8 |
| 150 | 279 | 25.4 | 1.6 | 216 | 192 | 168.3 | 89 | 241.3 | 22.2 | 8 |
| 200 | 343 | 28 | 1.6 | 270 | 246 | 219.1 | 102 | 288.4 | 22.2 | 8 |
| 250 | 406 | 30.2 | 1.6 | 324 | 305 | 273 | 102 | 362.0 | 25.4 | 12 |
| 300 | 483 | 34.8 | 1.6 | 381 | 365 | 323.9 | 114 | 431.8 | 25.4 | 12 |
| | | | | | | | | | | |
| N.Bore | A | B | C | D | F | J | L | P | T | Holes |
| 15 | 95 | 14.3 | 1.6 | 35 | 38 | 21.3 | 52 | 66.7 | 15.9 | 4 |
| 20 | 117 | 15.9 | 1.6 | 43 | 48 | 26.7 | 57 | 82.6 | 19 | 4 |
| 25 | 124 | 17.5 | 1.6 | 51 | 54 | 33.4 | 62 | 88.9 | 19 | 4 |
| 32 | 133 | 19 | 1.6 | 64 | 64 | 42.2 | 65 | 98.4 | 19 | 4 |
| 40 | 156 | 20.6 | 1.6 | 73 | 70 | 48.3 | 68 | 114.3 | 22.2 | 4 |
| 50 | 165 | 22.2 | 1.6 | 92 | 84 | 60.3 | 70 | 127.0 | 19 | 8 |
| 65 | 190 | 25.4 | 1.6 | 105 | 100 | 73 | 76 | 149.2 | 22.2 | 8 |
| 80 | 210 | 28.6 | 1.6 | 127 | 117 | 88.9 | 79 | 168.3 | 22.2 | 8 |
| 90 | 229 | 30.2 | 1.6 | 140 | 133 | 101.6 | 81 | 184.2 | 22.2 | 8 |
| 100 | 254 | 31.8 | 1.6 | 157 | 146 | 114.3 | 86 | 200.2 | 22.2 | 8 |
| 125 | 279 | 34.9 | 1.6 | 186 | 178 | 141.3 | 98 | 235.0 | 22.2 | 8 |
| 150 | 318 | 36.8 | 1.6 | 216 | 206 | 168.3 | 98 | 269.9 | 22.2 | 12 |
| 200 | 381 | 41.3 | 1.6 | 270 | 260 | 219.1 | 111 | 330.2 | 25.4 | 12 |
| 250 | 444 | 47.6 | 1.6 | 324 | 321 | 273 | 117 | 387.4 | 28.6 | 16 |
| 300 | 521 | 50.8 | 1.6 | 381 | 375 | 323.9 | 130 | 450.8 | 31.8 | 16 |
Contact Us
FF9, Vardhini Complex, Near Hanuman Cross Road, Makarpura GIDC,, Vadodara, Gujarat, 390010, India
Phone :+918045815461